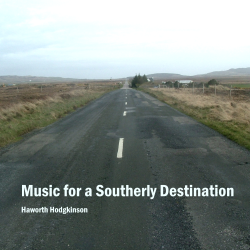 Music for a Southerly Destination
Music by Haworth Hodgkinson
High Moss HM 019 (72:27) • Released 27 January 2019
Music composed, performed and recorded by Haworth Hodgkinson in 2018
Cover from a photograph by Haworth Hodgkinson
Album © Haworth Hodgkinson 2019
Downloads: Album • CD booklet (PDF) • CD inlay (PDF)
Links: Haworth Hodgkinson
Music for a Southerly Destination (2018)
In the 1980s I had the idea to make a set of four pieces based on the four compass points. I completed Music for a Westerly Destination and Music for a Northerly Destination, but didn't seem to find any inspiration in the east or the south – I've always been more drawn to the north and the west. I think another reason the project stalled was because the two pieces I did finish were so very different from each other that they didn't seem to belong to the same project at all. Nevertheless, when I produced the present piece a few decades later in the summer of 2018, one of those unused titles, Music for a Southerly Destination, seemed to fit, as the source recording was made in Islay, which is pretty far south as Scottish islands go.
Music for a Southerly Destination is music for relaxed listening. It is slow to the point of being essentially static. It consists of just one sound, a drone rich in harmonics, which gently pulses and changes in shape over the course of some 72 minutes. I could have made the piece more or less any length, but CD length is a good duration to allow the listener to become immersed in the sound world and to lose track of time.
The source sound is a recording of a car journey along the Low Road from Bowmore to Port Ellen in Islay, the longest completely straight stretch of road anywhere in Scotland, or so I am told. The album cover photo was taken looking south along this road. The raw recording was in fact made for a different project, Island Road Drones, which I hope will eventually appear on another High Moss album within the next few years. For Music for a Southerly Destination I tried to make the engine noise into something much more organic by tuning it to a spectrum of 64 harmonics, and setting each overtone on its own trajectory across the length of the piece. Each harmonic comes in and out of focus at different times, and this is what creates the overall shape-shifting impression. There are certain "meeting points" at which all the harmonics that are multiples of three, or five, or seven, come into focus, and all the other harmonics fade. At these points it feels as if a new harmony breaks through the texture for a while before dissolving back into it. There is also a gradual change of emphasis from lower to higher harmonics as the piece progresses.
Advice for the listener then? Sit, lie, make yourself comfortable, let the music take you off somewhere for an hour or so. Forget that you are listening to a car's engine. Or if you prefer, treat it as ambient music, let it play whilst you are doing something else, and let the shape-shifting drone draw your attention when it will. And one last observation: it's probably best always to let it play from the beginning so that the texture builds organically and naturally. If you drop in part way through it can sound very strange and alien without the gradual build-up of overtones from the silence at the start. Relax and enjoy!
Notes © Haworth Hodgkinson 2019