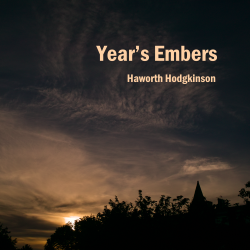 Year's Embers
Music by Haworth Hodgkinson
High Moss HM 011 (72:50) • Released 31 October 2016
All music composed, performed and recorded by Haworth Hodgkinson in 2015 and 2016
Cover from a photograph by David Henry
Album © Haworth Hodgkinson 2016
Downloads: Album • CD booklet (PDF) • CD inlay (PDF)
Links: Haworth Hodgkinson • David Henry
Year's Embers
This is an album of music for the darkening months towards the end of the year, at least as seen from my Northern Hemisphere perspective. All the music has been composed and recorded within the last year or so.
September Fling with Mechanical Breakdown (2016)
The lively spirit of some recent group improvisations led to the creation of this piece in which a keyboard improvisation proceeds at a rate far faster than I could ever play live.
White Hexagons (2016)
The sounds in this piece all come from a set of vocal samples made in 1995 as part of a Dundee City Council / Tayside Police drug awareness project in the Whitfield area of Dundee. The title might make sense to anyone who knows the history of Whitfield.
Healer (2015)
Made originally for a late-night Halloween performance with Suk-Jun Kim and Francesco Sani at the 2015 Sound Festival, Healer has gone through several versions. Originally it was presented with live keyboards and percussion over a pre-recorded backing, and I introduced it with a poem – also called Healer – in which the narrator visits the sick and liberates them from their earthly pains. Shortly after the performance I made a studio version without the poem, and that is the version we hear on this album. The poem went on to feature in productions by National Theatre of Scotland and Huntly Writers, whilst the music, in an extended version, became the soundtrack for a 2016 Halloween show, Burkers, Bodysnatchers and Bloody Surgeons, performed by Graft Theatre Company at the Anatomy Rooms in Aberdeen.
Three Chorales for Pot Dwellers (2016)
These three short pieces are made from a brief sample of a recording that came to me labelled "Colin singing in a pot". I imagined Colin Edwards singing inside some huge ceramic vessel, though in fact he was using a catering-sized metal soup pan as a resonator. The tuning is based on the natural harmonics of a deep fundamental. In the first chorale all harmonics are present, in the second only prime harmonics, and in the third all harmonics initially but only odd harmonics by the end.
Gallowgate (2015)
A creaking door at the Church of St Margaret of Scotland, Gallowgate, Aberdeen, provides the source material for this piece, in which the sound of the door becomes transformed into something a little more ethereal.
November Nights at the Beach (2015)
After concerts and rehearsals in Aberdeen I will sometimes visit the beach to wind down. The atmosphere of the beach at night in November seemed to me to be reflected in this piece, which began life as a study in live coding using a slightly strange tuning system.
Winter Sea (2016)
From the urban beach of the previous piece, we move finally to a beach far from the city. Winter Sea was produced in 2016 using a synthesiser improvisation in 19-tone equal temperament to harmonise a December 1999 recording of waves crashing on Aberdour beach in Aberdeenshire.
Notes © Haworth Hodgkinson 2016